The Long Haul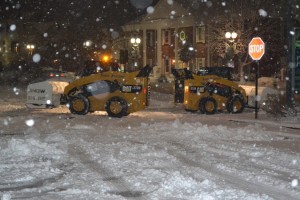 If you're looking to tackle larger clients, then you may need to prepare to haul snow off site.
For many commercial clients, snow removal is as straightforward as stacking snow with each new snowfall. The client sacrifices the least-intrusive part of his property to pile load after load of snow there so the rest of his pavement can be clean.
Some clients, though, need a greater level of snow service. Commercial clients such as retail properties and parking garages require full access to all of their parking spaces. In their minds, large, obtrusive snow piles make parking more difficult and limit the number of visiting customers. In addition, snow piles are susceptible to winter temperature fluctuations above and below freezing, which contribute to dangerous refreeze issues. In the end, these obstacles impact clients' ability to generate revenue and make them vulnerable to slip-and-fall claims and the ensuing litigation.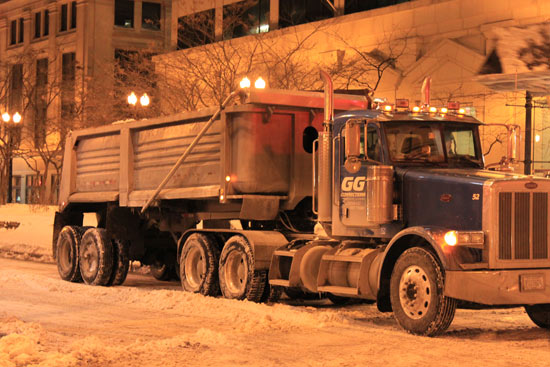 To remedy this situation, these clients look to their snow contractors for more innovative strategies to meet their needs. And the solution often includes hauling snow from the property.
CLIENTS.
It's easy to anticipate which clients will be eager to keep every available parking space open even during winter, says snow fighter Jim Biebrach, who has been pushing snow for nearly three decades. These clients are mostly business entities with large campuses or parking areas.
"They tend to be more of the corporate-complex type with a large property," says Biebrach, the president of Wheeling, Ill.-based Snow Systems. "These are places that usually have a snow holding area but, they don't want to give up the space."
Clients interested in snow removal will be looking for high-level service, and are willing to pay the price associated, says Galen Murray, owner of WallsnFalls in Thornton, Colo.
"The client will have kind of a concept of the needs that they have," Murray says, "and it tends to be a more demanding client that has a bigger bank account."
High-traffic areas such as hospitals or malls fall into the same category for the sake of overall availability. One often-overlooked opportunity for snow removal is found in storage unit complexes, says Michael Anderson of Snow Pros in Highland, Ind. Companies that can only maximize their revenue when all of their space is available will be willing to work with a contractor on a snow removal program.
SERVICE.
Biebrach began offering snow removal to make his company stand out among his competitors, but having the versatility to at least offer a way to haul snow off a property outright is becoming necessary for larger accounts.
Anderson agrees. "It's tougher, but you're giving them the service and the attention they need," he says. "They like that, and they won't hire somebody that can't at least provide that service."
For many contractors, snow removal is a premium service that is worked into the client's contract and is priced out according to the machines used. A price is often reached by taking into account the equipment and the operator, not necessarily by comparing the service to a standard snow stacking rate.
A good source of pricing guidelines can be competitors themselves or even a client's past snow removal contract. Depending on the equipment used and operators involved, a 15- to 20-percent profit margin could be acceptable to a client, Biebrach says.
Regardless of the contract total, time should be spent with a client not only to sell them on the service, but also to educate them about the uses of snow removal versus snow stacking.
More-efficient equipment means work can get done more quickly, saving the customer money in the long term, and more space is opened up in lots effectively and professionally. When starting a new snow removal program with liquid products, Jason Ritchie, president, All In One Service Group in Livonia, Mich., took the time to sit down with his customers to demonstrate his snow removal plans.
"It's really a different process than a regular contract," Ritchie says. "You have to take time and educate your clients to the benefits of what you do."
EQUIPMENT.
Choices for snow removal vary widely; though techniques can change, having the right equipment for the client is important.
While subcontracting for Premier Services, Murray used skid-steer loaders to pick up and move snow from a pile made while plowing either to an area on the property designated as a snow holding area or onto the company's own property. Though a client will sometimes have space to offer, a contractor should have backup plans to present.
"It's important to have a place that you can use. Check around or ask the city about possible places," Murray says. "You have to be creative to be able to do it, and do it in a cost-effective manner."
Another option is a liquid treatment. In assistance to rock salt, applications of calcium chloride, magnesium chloride and sodium chloride mixtures can be used before a storm to cut snow. A less-expensive chemical compound can help tone down the rising cost of rock salt, though spraying equipment like ice control sprayers and vats for storage can make a moderate initial cost.
Snow blowing can be an alternative for complexes that have open land nearby the parking property. Biebrach uses high-speed blowers to launch snow yards into a snow holding area designated by the client. The blower does the work of a small fleet of smaller machines, spreading snow out lightly and cleaning a parking lot or property completely. The equipment makes a high entrance cost, but the machines replaced can make up the difference if a client is willing to pay the price.
WORDS OF ADVICE.
Quality equipment is of the highest importance in developing a snow hauling program. Know the limitations of equipment and take care to use the right pieces for the right client. If a high-end program doesn't fit the surrounding clients, adjust the program to better fit the market.
In addition, make certain employees are properly trained to operate any snow hauling equipment safely and professionally. "You have to have the right people for the job," Anderson says. "I would rather pay extra to get someone that knows what they're doing."
Finally, keep communication lines open with clients to make certain the services provided are what the client wants, especially when it comes to snow removal versus snow stacking. Have a program ready and finalized long before the first flake and the option of snow removal might open up brand new client opportunities.
"It's not the old way of doing things," says Biebrach. "This has really allowed us to go after properties that are of a much larger caliber."
---
Article by Kyle Brown, contributing editor in Snow Magazine, January 6, 2009
http://www.snowmagazineonline.com/Article.aspx?article_id=79413