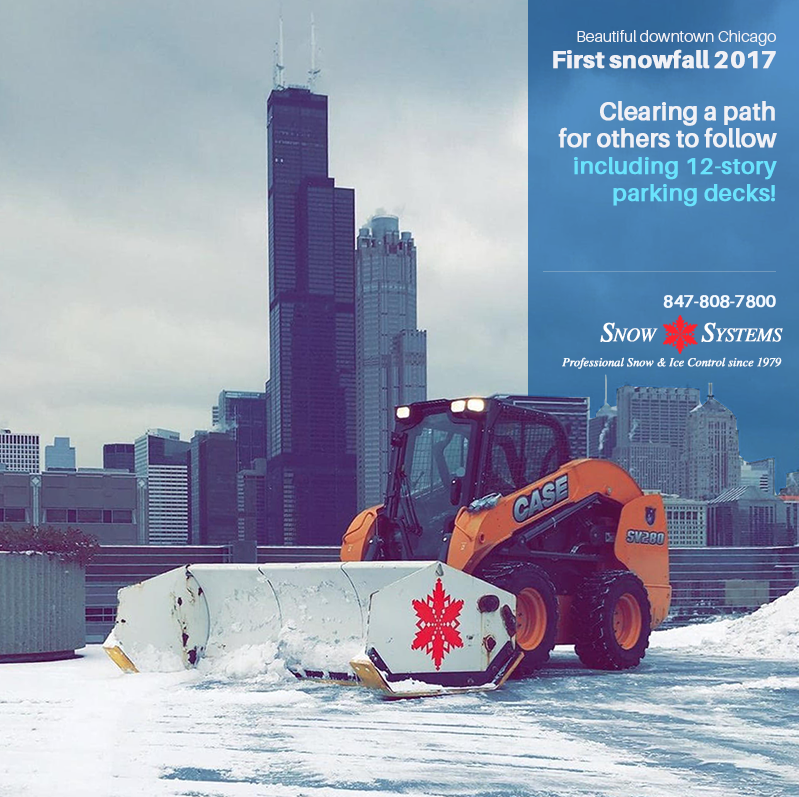 Snow Systems provides commercial snow removal, ice control, snow plowing, sidewalk shoveling and ice removal to corporate and commercial clients in Illinois, Indiana, Ohio, Wisconsin, Pennsylvania, Colorado, Massachusetts and Tennessee
Snow Systems has been providing the Chicago and the surrounding areas with professional snow and ice control services for over 36 years.
Snow Systems is equipped to handle large projects that require multiple pieces of snow moving equipment, such as wheel loaders, skidsteers, snow melters and more.
Our specialty in corporate campuses, healthcare, intermodal, railroad and manufacturing plants over an 8 state region makes Snow Systems your go to company when safety is your number one priority!
Today, Snow Systems sets the standard for safety, timeliness, and efficiency in the services it provides to both its corporate and commercial clients. Promoting safety is our main goal.
Snow Systems is Dedicated
Snow Systems started in business in 1979 with snow removal work for a large manufacturing plant whose contractor had failed to show up during a major Midwest snow storm. This client is still with us today!
When a storm hits, time is of the essence. There is a critical window of opportunity during which we must do our job. With snow and ice control being our only business, the Snow Systems motto is "Do it Right the First Time."
No Job is Too Big!
Recognizing a demand for professional snow and ice services was not difficult. Building an organization with over 600 pieces of snow moving equipment was. Today Snow Systems is one of the select few snow removal companies that can successfully complete any snow removal operation regardless of the size or level of difficulty.
Being prepared is the key. Storms are tracked using the Doppler Radar, making our company an industry leader in snow reporting. This prediction and monitoring tool allows Snow Systems to perform snow and ice removal efficiently during that critical window of opportunity.

Solid Reputation
Snow Systems has grown successfully by building a solid reputation of providing timely, quality service, while maintaining a high standard of safety for customers, tenants, and employees. Our command center is in constant communication with our fleet area managers, and on-site team leaders. We will always be on call 24 hours a day during our season. Snow Systems is always prepared for the unpredictability of Chicago's winter. We've built our reputation providing our clients with peace of mind when it snows. Snow Systems is "clearing a path for others to follow."
Team Training & Safety is Top Priority
Obtaining and training our labor force is a continual process. The team has over 140 years combined experience in snow removal and ice control. Our continued support of the American Public Works Association, The Illinois Landscape Contractor Association, and The Associated Landscape Contractors of America allow us to become better informed managers by participating in off-season seminars.
Be Prepared
Call Snow Systems 847-808-7800
---
For the past three years, we have been very pleased with the quality and promptness of the snow removal services at a fairly large and complex shopping center. Your response time and communication between my on- site staff and your dispatch service has been very prompt and professional.
Southgate Market
---